Creating high-quality educational content in a form of projects, solving real-world problems, is an essential feature of Education Ecosystem. Therefore, high-quality content is incentivized. Content creators earn LEDU tokens and cash.
For such purposes, Education Ecosystem developed the Proof of Work concept, rewarding project creators with LEDU, ETH tokens, and cash.
In order to get paid, you need to have your PayPal account connected to Education Ecosystem account, OR you need to have your ERC-20 wallet connected to the platform, OR you need to provide your SWIFT payment details.
The former two are simply created. You need to log in on our platform and navigate yourself into the Settings in the upper right corner via your Gravatar.
In your settings navigate yourself into the tab "Payouts", where you can set both your PayPal account and ERC-20 electronic crypto wallet.

So how do you create interesting projects to earn money?
A first step is to keep on track with weekly announcements of projects to create. Our team does continual research on topics that are trendy, modern, and interesting for the developer community to learn from.
Our weekly announcements are being showcased here.
Scrolling down provides you with a look at all our categories of interest and project in it.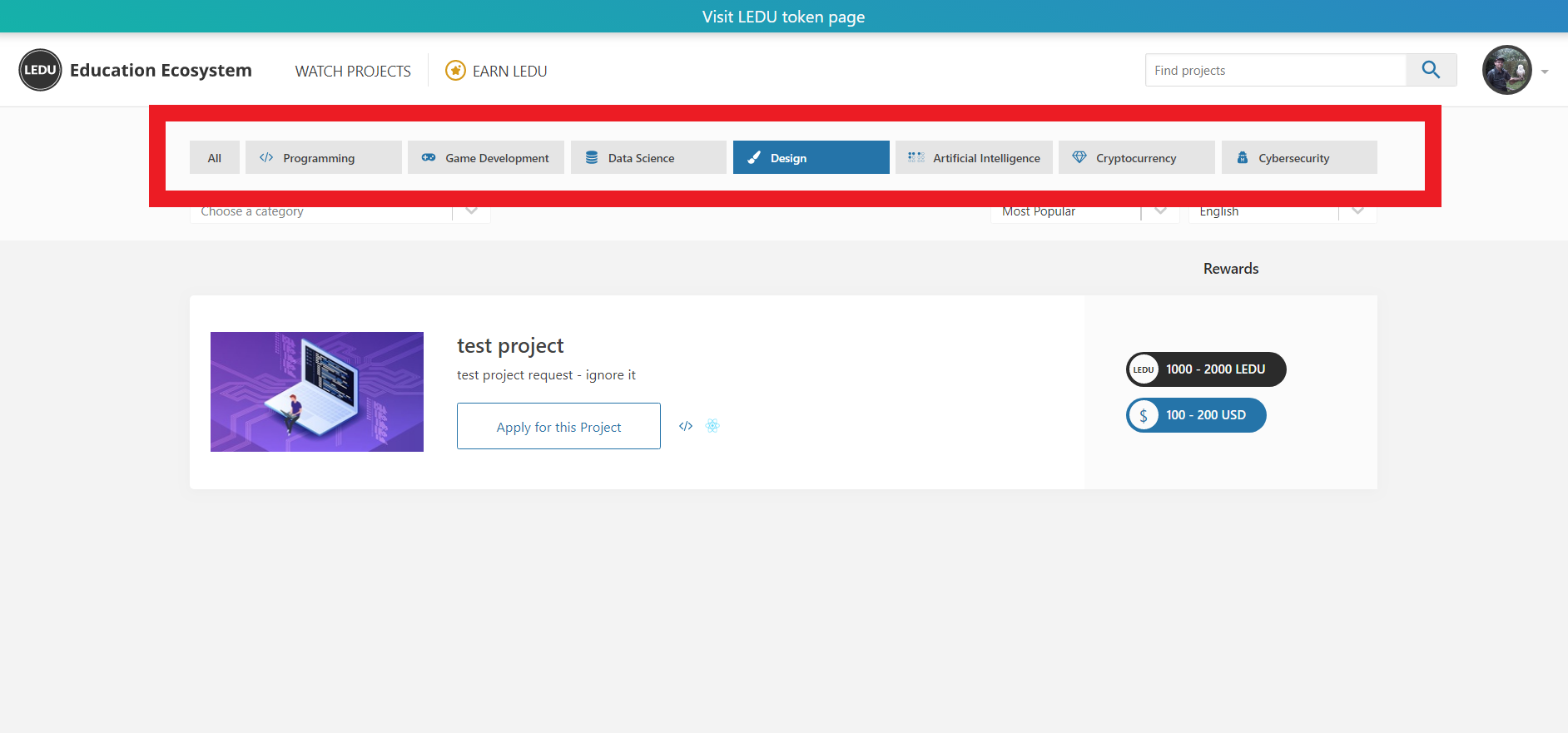 Furthermore, we seek on a weekly basis new project creators to help us make those projects come true. Those project creators are then rewarded based on project quality. You can join project creators on your own, without us finding you, by simply creating Project Creator account on the platform.
The second step requires you to apply for a project. For it, use Google form here. After you apply, a member of our team will contact you and talk through details. He will check your profile, your qualification to become a content creator and based on your profile suggests projects you may create.
Should you agree, our project manager will provide details and guidelines for project creation. Once you both agree on terms and details, you can start working on a project.
For more information visit Education Ecosystem Proof of Work where you learn about all the ways to earn money using our platform.

The platform's Proof of Work has several parts:
Creating Projects

Watching Projects

Project Quality Checking

Suggesting Quality Project Ideas

Inviting a Friend to Education Ecosystem

Sharing a Project
Create a project
Watching Projects
As they say, "Watch and Learn" is an essential spirit of Education Ecosystem platform. Watch our projects, improve your skills, develop your career and earn money in the process. Who else will offer you something alike?
Project Quality Checking
Also called Community Mods, it is a program deploying independent bounty hunters who conduct quality assurance checks. Quality assurance encompasses reporting bugs, technical streaming issues, video quality issues, and content moderation. They are rewarded with LEDU tokens on regular bases for carrying out site moderation.
Suggesting Quality Project Ideas
See something we don't teach? Would you like us to create a project on a particular topic? Suggest a project and earn LEDU coins!
Inviting a Friend to Education Ecosystem
Education Ecosystem referral program offers you a great opportunity to earn an additional LEDU by inviting Friends! All you have to do is to use your referral link already implemented to your profile. Either use button on the page EE Proof of Work, or simply navigate yourself into your profile, tab Refer a Friend.


Sharing a Project
Sharing is caring. And also earning. Sharing projects on Education Ecosystem will earn you further rewards in our EE incentives program. Every project has a button disclosing the number of tokens you'll earn by sharing that particular project. It's easy!
From our Proof of Work page, you can use any escape buttons to browse projects. Pick your favorite project, open it, scroll under the video and voilá, there is a button to share a project for LEDU. It sits right next to the "Watch Full Video", which also grants you LEDU tokens.